Achieve More With Notion X Moonshot

Reach further, faster, with a simple yet effective Notion template inspired by the Objective Key Result (OKR) goal setting framework.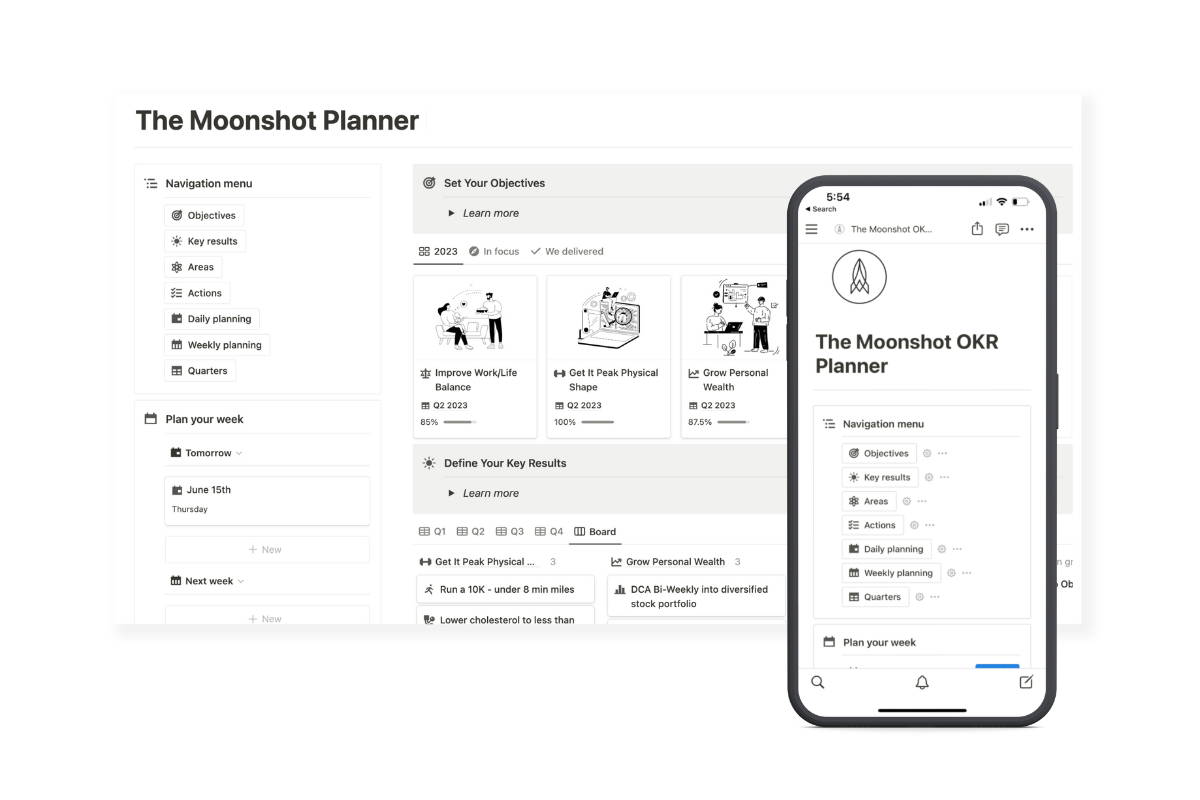 Achieve More With Notion X Moonshot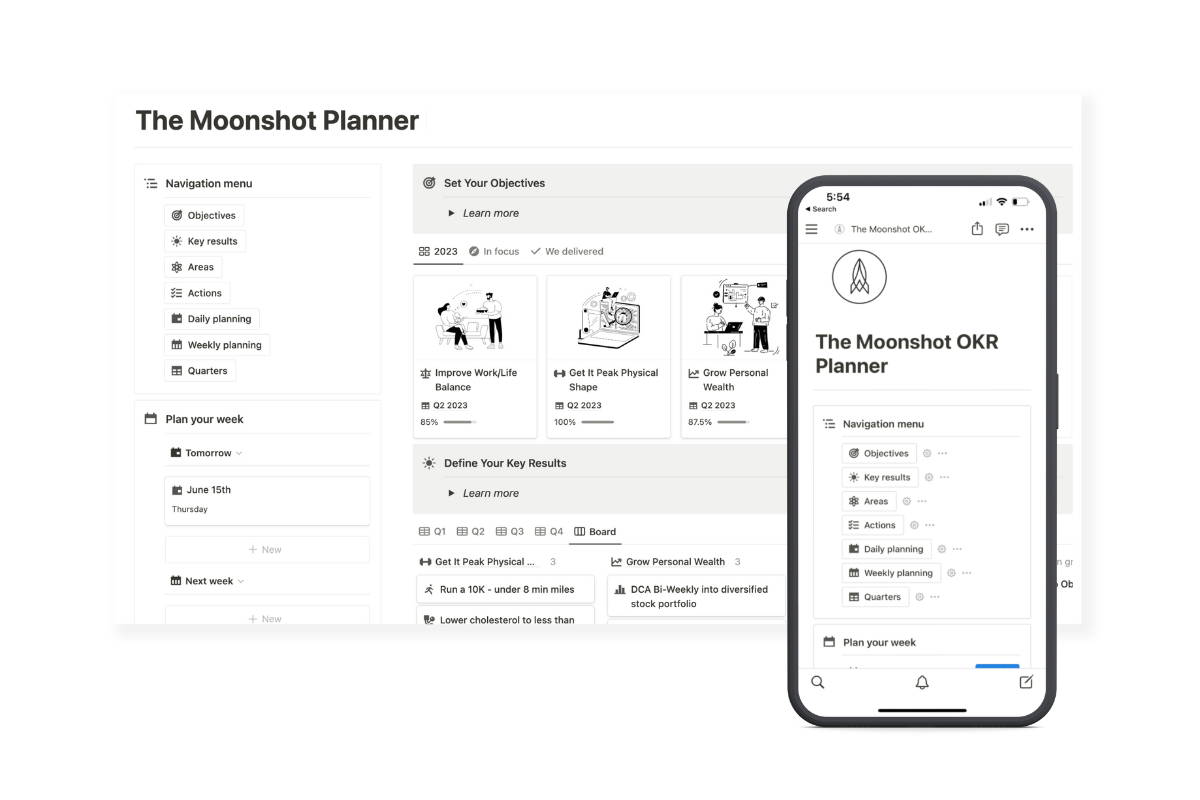 Reach further, faster, with a simple yet effective Notion template inspired by the Objective Key Result (OKR) goal setting framework.
The Moonshot OKR Planner for Notion was thoughtfully designed to help you focus...and ultimately exceed what you thought was possible. No bells and whistles.
- Improve your life by defining the Areas that matter and setting Objectives to hit your long and short-term goals.
- Hit your Objectives by aligning specific Key Results.
- Score Key Results monthly and Moonshot will dynamically grade quarterly Objectives.  
- Make your Key Results achievable by breaking them into a monthly Action Plan.

- Bring your Action Plan into your weekly planning and make them...actionable.
- Reflect on your weekly performance so you can continue to improve yourself.
- Plan your daily priorities, tasks and schedule.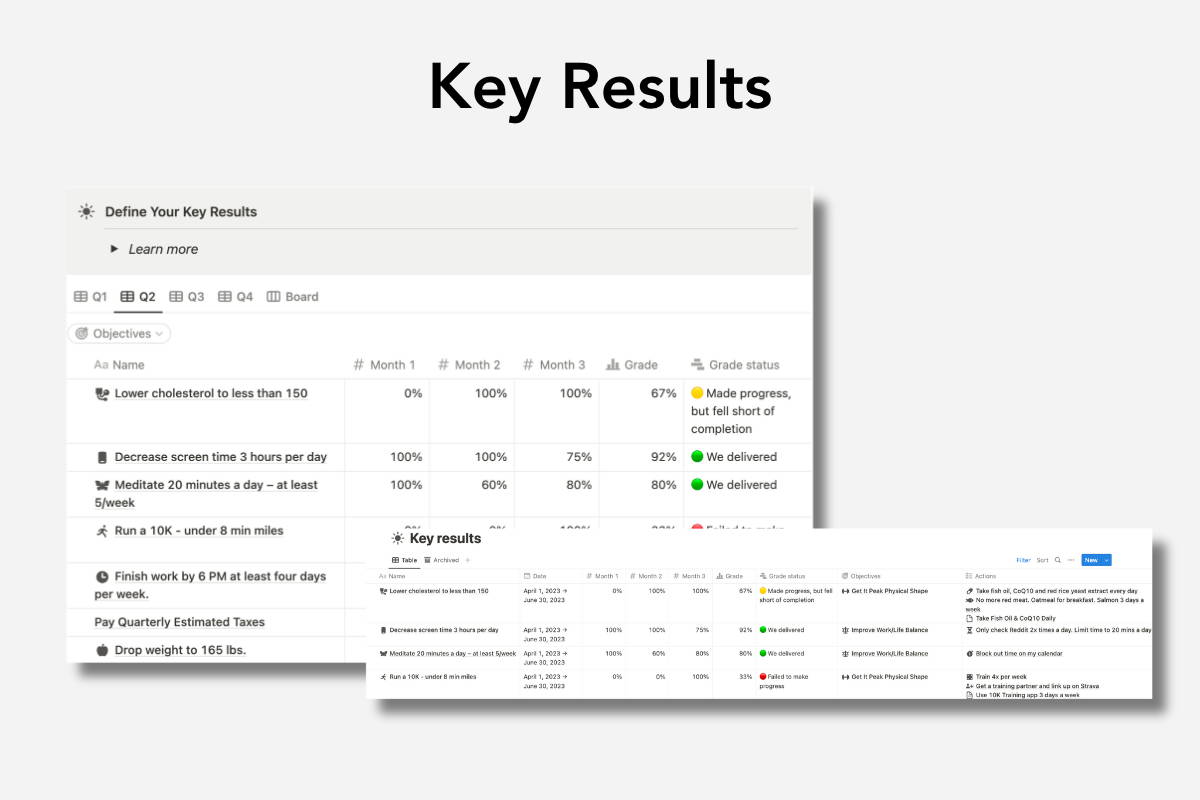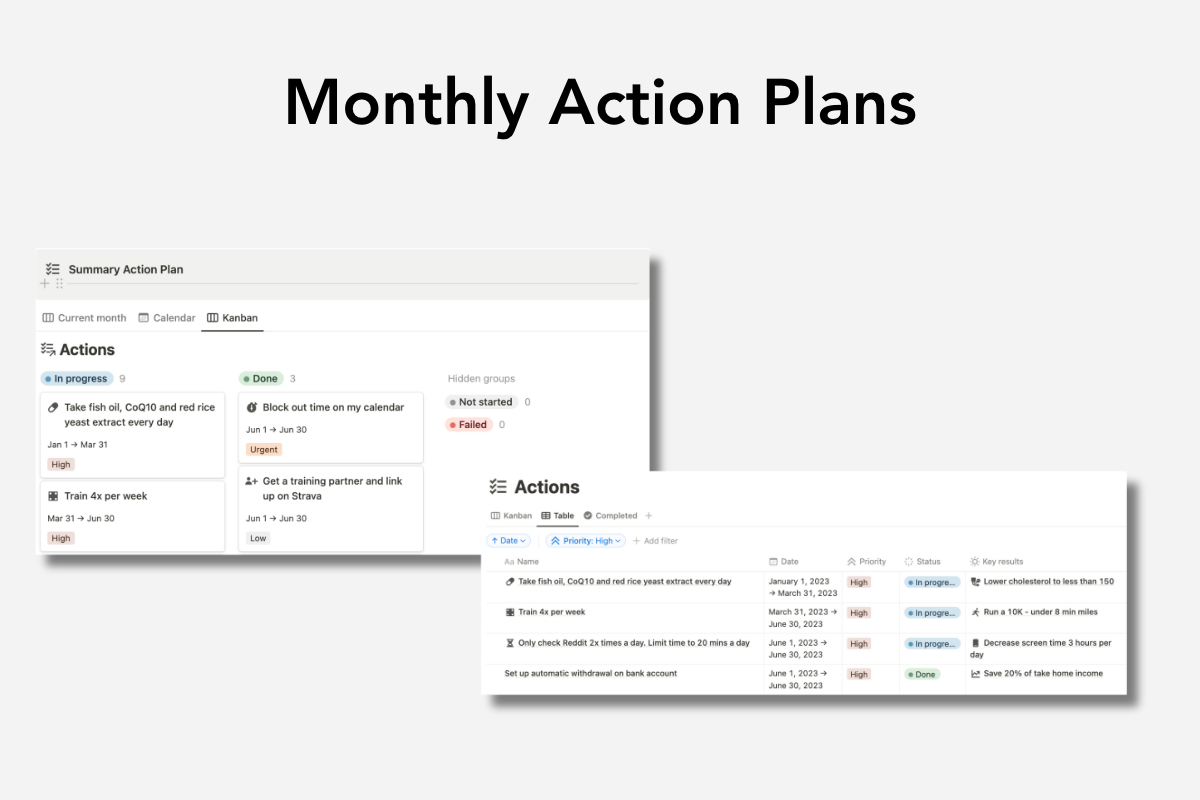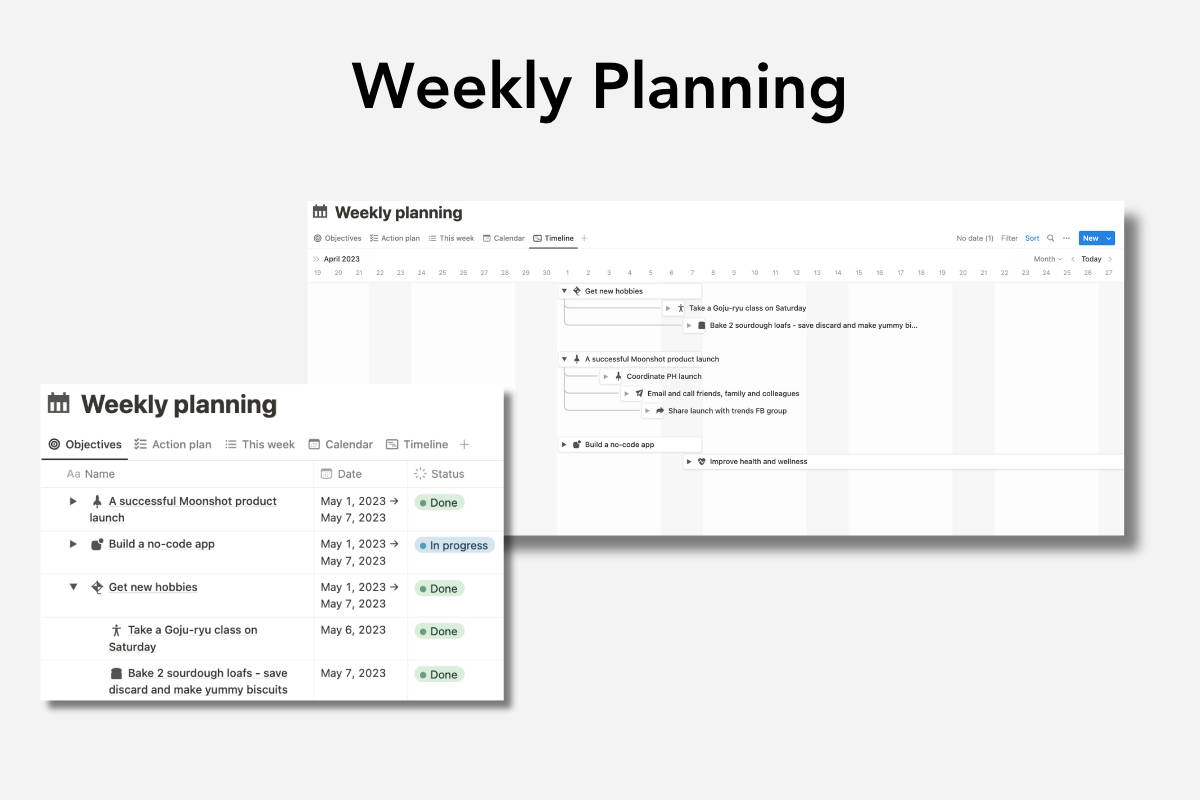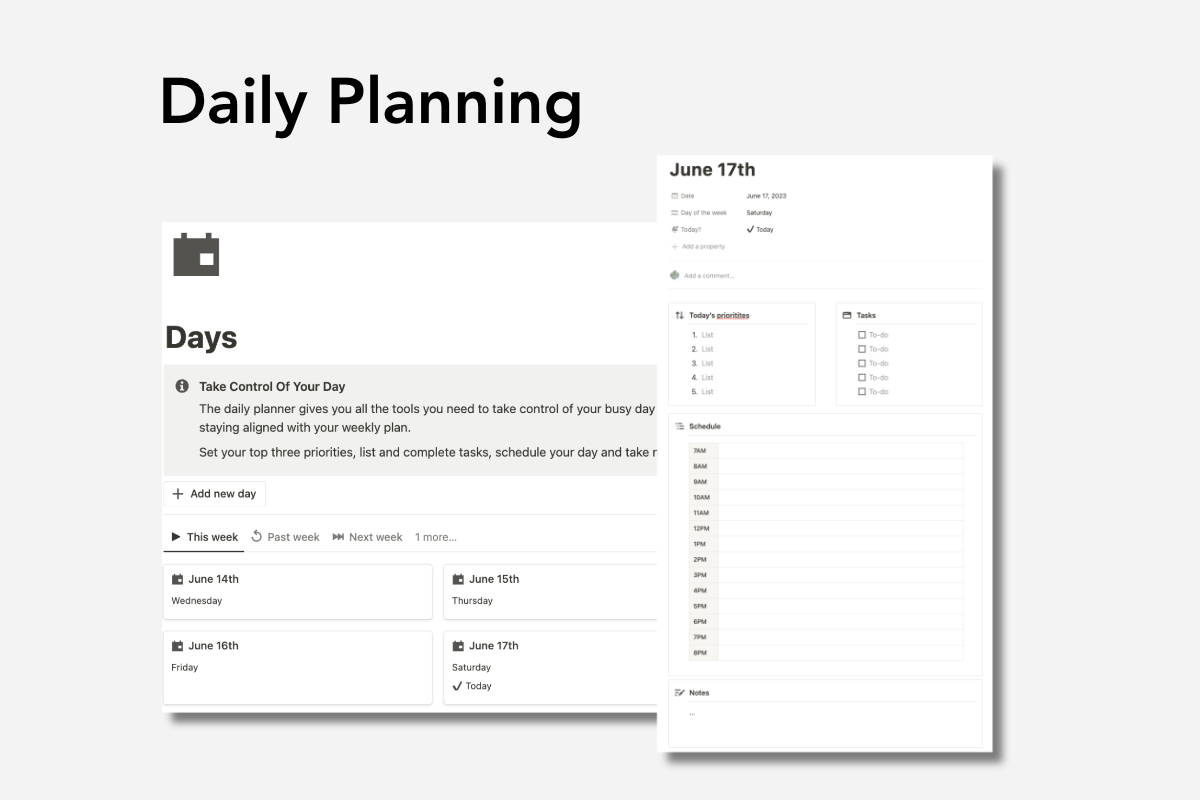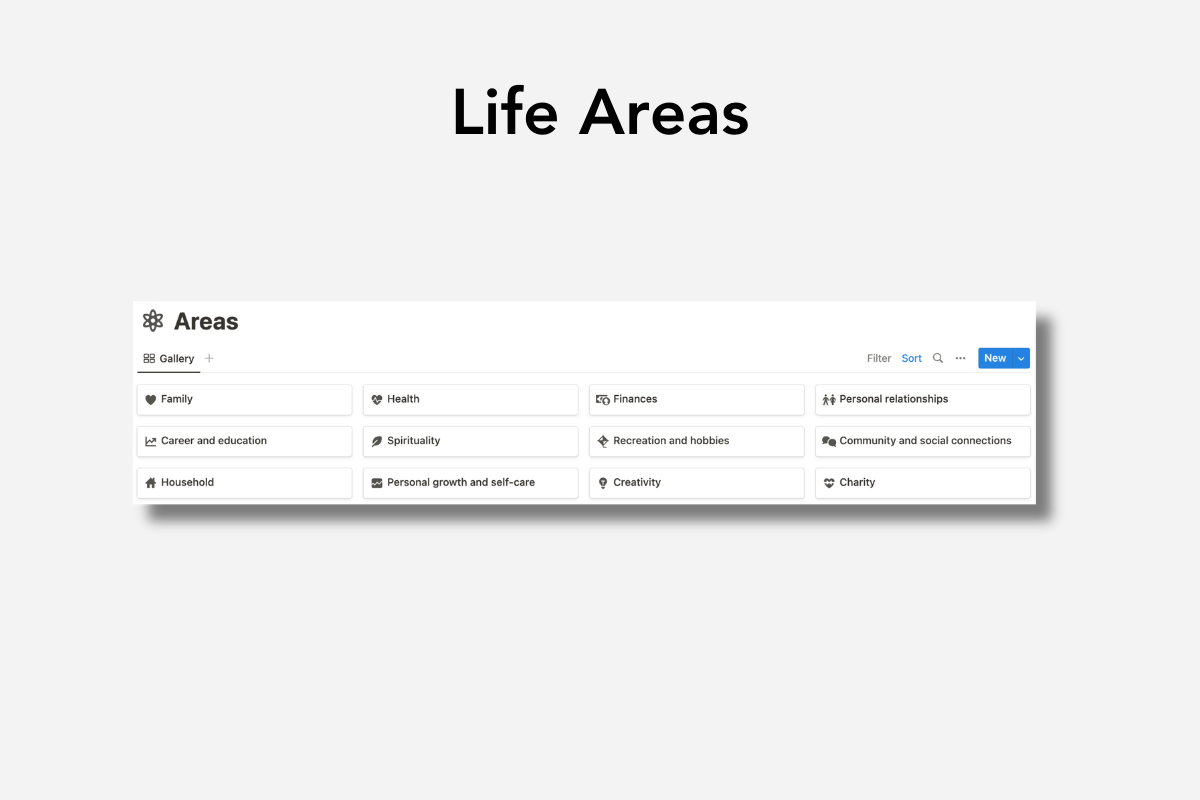 Brought to you by the team who created the hardcover Moonshot Planner, this template combines the simplicity and ease of Moonshot with the amazing capabilities of Notion.
1. Define Your Objectives
Setting Objectives is as simple as naming them and connecting them a life Area. Grading is dynamic, so you don't have to worry about doing the math. View Objectives by quarter, what's currently in focus and what's been completed in the past.
Setting up Objectives only takes a couple seconds.
2. Choose Your Key Results...Wisely
Create Key Results and connect them to specific Objectives. View Key Results by quarter, in a table format, our in a kanban.Score your Key Results monthly and automatically grade Objectives.
Yup, it's that easy.
3. Create A Monthly Action Plan
Make hitting your Key Results easier by connecting them to a monthly Action Plan. Add these tasks to your weekly planning sprints to guide what you need to do to stay on course.
4. Plan Your Week & Reflect
Plan each week in advance, connecting with Key Result aligned tasks. Reflect on how you did and what you can improve at the end of each week to help you iterate towards hitting your Objectives.
Track your daily priorities, tasks and schedule with a comprehensive daily planning module.
Organize OKRs By Life Areas
I was really impressed by this template! The functionality and thoughtfulness are great, making it super easy to use and intuitive. Plus, the aesthetic design is really cool.
If you're looking to boost productivity and achieve your goals, this is definitely worth checking out!

Volo Chaika
Creator, Vistory
I'm constantly juggling multiple projects and deadlines. The Moonshot OKR Planner for Notion has been a game-changer, streamlining my workflow and making me significantly more productive. I love how it keeps me focused on my key objectives with the monthly action plan and the weekly reflection.
Fred Brehm
Founder, Special Operations
The Notion template version of the Moonshot OKR Planner has been an absolute revelation, transforming my workflow and notably elevating my productivity. It keeps me laser focused and it has all the right integrations and features I would expect from a top-tier OKR Notion template.
Jace Grebski
Founder, NOFUD
Q1: What is the Moonshot OKRs for Notion?
A1: The OKR-based Notion template is a digital solution designed to help individuals and teams set, track, and achieve their Objectives and Key Results (OKRs). It offers an organized, easy-to-use platform for managing your OKRs, ensuring progress is tracked and goals are met.
Q2: How do I get started with Moonshot OKRs for Notion

A2: To get started, you'll need a Notion account. Once you've logged in, you can import the OKR-based Notion template and start entering your objectives and key results. The template includes instructions and examples to guide you through the process.
Q3: Can I share my OKRs with team members using Moonshot?

A3: Absolutely. Notion allows for seamless collaboration. You can invite team members to your OKR template and assign them tasks or objectives. They'll be able to update their progress, add comments, and more, right within the template.
Q4: How often should I update my OKRs?

A4: We recommend updating your key results regularly, at least on a weekly basis, ideally on a daily basis. This ensures you're keeping track of your progress and allows you to adjust your strategy if necessary to meet your objectives.
Q5: Can I customize the Moonshot OKR Notion template?
A5: Yes, you can customize the OKR Notion template according to your needs. Notion's user-friendly interface allows you to add, remove, or adjust elements of the template to best suit your or your team's workflow.
Q6: Can I use Moonshot if I'm new to OKRs?
A6: Absolutely. Moonshot is designed to be user-friendly, regardless of your experience level with OKRs. The included instructions and examples make it easy to understand the OKR process and how to apply it to your goals.
Q7: Can I use the OKR Notion template on mobile devices?
A7: Yes, Notion is available as a web, desktop, and mobile application, so you can manage your OKRs on any device. Just download the Notion app from your device's app store.
Q8: What do I do if I need support or have more questions?
A8: If you have any questions or need support with the Moonshot OKR Notion template, feel free to reach out to us via our contact page on our website or email us at hello at themoonshotplanner.com.
Q9. If I don't like the Mooonshot OKR Notion template, can I get my money back?
100%. Respectfully, we ask return requests happen within 30 days of purchase.